WE ARE BACK!
Wednesdays in Evanston at Levy Center starting 8/11!
Evanston Chess Club will re-start August 11! We will meet every Wednesday from 6:30 to 9:00 p.m. at the Levy Activity Center.
City of Evanston policies changed, and the best way to keep the club going was to become a City of Evanston program: There's now an annual membership fee of $65 for Evanston residents, and $85 for non-residents, good for a full year from the time you sign up. No, it's not free, but it's cheap for a weekly activity! Sign up at the Levy Center (300 Dodge Ave., Evanston), or call 847-448-8250.
The club is open to anyone 18 and older. Evanston Chess volunteers will continue to run the club. Sets (and some clocks) will be supplied. And yes, an optional round-robin blitz tournament will be held the third Wednesday of every month, with inconsequential (usually edible) prizes.
Questions? enter@evanstonchess.org
New! 55-and-up Chess in Skokie
Thanks to the Skokie Park District and our Evanston Chess Club volunteers, players who are 55 or older can sign up for a low-cost membership and play chess at the Oakton Community Center on Tuesday evenings. See this link for complete information.
Tournaments coming 9/18 and 11/13!
I have scheduled two tournaments at the Levy Center: one tournament in September and one in November.
Complete info for the September 18 tournament will be posted on our events pages in mid-August. Expect changes in terms of capacity, skittles space, spectators and other tournament parameters due to the pandemic.
Regards,
Maret Thorpe, US Chess National Tournament Director, FIDE National Arbiter
Evanston Chess Club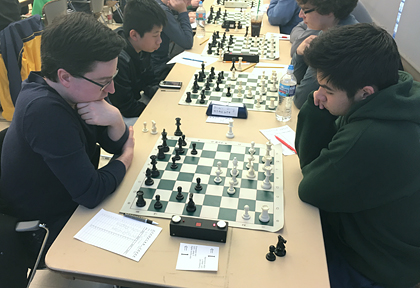 ABOUT US
Evanston Chess provides relaxed, congenial chess to adults (high school and older). Some members like slow games, others prefer blitz. We offer rated play at our Saturday tournaments, and unrated play for adults at Tuesday night chess, where beginners are welcome. Membership is free. Our focus is on enjoying chess, not on prize money. Our club includes ages fourteen to over seventy, and players from beginners to masters.
Evanston Chess, USCF Affiliate A6027684

Tournament History
Active Players
We meet at (map)
Levy Senior Center, 300 Dodge Ave., Evanston, IL 60201
PLAY CHESS
Open chess every Tuesday from 6:30-9:00 p.m. for players high school age and older. It's free. Boards and sets are supplied. The third Tuesday of each month we have blitz chess round robin for those who want to participate.
We meet at: Levy Senior Center, 300 Dodge Ave., Evanston, IL 60201.